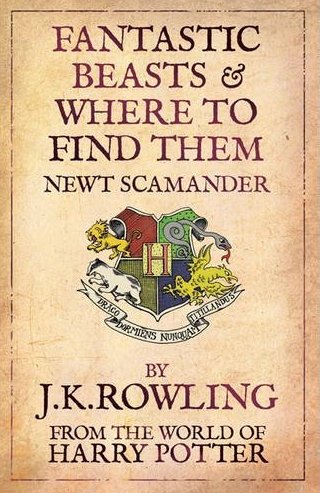 Kevin Tsujihara, Chief Executive Officer of Warner Bros. Entertainment
announced that there would be an expanded partnership with best-selling author J.K. Rowling. So what are these guys going to to create this time? Apparently turning the Harry Potter's Hogwarts textbook "Fantastic Beasts and Where to Find Them" into a film! Now I'm puking rainbow.
There's more: This project is planning a film series, J.K. Rowling would also serve as the screenwriter and everything is still s
et in the wizarding world and will feature magical creatures and characters familiar to each and everyone of the muggle fans.
"

It all started when Warner Bros. came to me with the suggestion of turning 'Fantastic Beasts and Where to Find Them' into a film, I thought it was a fun idea, but the idea of seeing Newt Scamander, the supposed author of 'Fantastic Beasts,' realized by another writer was difficult. Having lived for so long in my fictional universe, I feel very protective of it and I already knew a lot about Newt. As hard-core Harry Potter fans will know, I liked him so much that I even married his grandson, Rolf, to one of my favourite characters from the Harry Potter series, Luna Lovegood.

As I considered Warners' proposal, an idea took shape that I couldn't dislodge. That is how I ended up pitching my own idea for a film to Warner Bros.


Although it will be set in the worldwide community of witches and wizards where I was so happy for seventeen years, 'Fantastic Beasts and Where to Find Them' is neither a prequel nor a sequel to the Harry Potter series, but an extension of the wizarding world. The laws and customs of the hidden magical society will be familiar to anyone who has read the Harry Potter books or seen the films, but Newt's story will start in New York, seventy years before Harry's gets underway.


-J.K. Rowling
And I thought everything ended with the Deathly Hollows, I remember fantasizing about a sequel or something. But now, since 're having this, count me in! It's such an amazing idea, and I hope that even after these films would come to fruition they will start on making a series for...the stories of Hogwart's founders. Hey I could dream on! I mean I don't think people actually saw a
spin off
coming right? There is hope.